Martin Control Systems is an industrial control system integrator located in the Columbus, Ohio area. Our team of electrical engineers design and build services for industrial and control data collection systems using the most efficient and reliable technologies. For over 20 years we have been dedicated to providing innovative solutions for our customer's needs.
1988 Founded as Martin Electronic Services
1993 Incorporated as Martin Software & Design
2001 Name changed to Martin Control Systems, Inc. (aka MartinCSI)
2004 Relocated to offices in Dublin, Ohio (a suburb of Columbus)
2014 Broke ground on new MartinCSI building
2015 Relocated to new MartinCSI building located in Plain City, Ohio (a suburb of Columbus)

MartinCSI actively participates in several professional organizations including the International Society of Automation (ISA), National Fire Protection Association (NFPA), and the Industry and Technology Council of Central Ohio (ITC).
We strive not only to be recognized as industry leaders, but as leaders within the community. our involvement in an assortment of community organizations and events allows for an interactive way to network with our customers and peers. Currently we are avid supporters of the 4-H livestock program, active participants of KIVA, a micro-lending website in which we directly lend money to entrepreneurs all over the world, and are yearly donors to a local soup kitchen.
---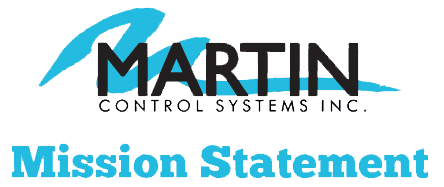 MartinCSI solves industrial manufacturing and process challenges by delivering forward-thinking systems and services for business-critical operations. These services are delivered by valued employees through moral business practices.
Our mission is demonstrated by an ongoing legacy of repeat business from our customers; happy, longer-term employees with opportunities to produce their own futures; and a reputation for uncommon integrity.
And that's how it's done at MartinCSI!