9/19/2017 10 AM - 2 PM MartinCSI and Allied Automation present Mitsubishi Solutions in Motion Mobile Showroom. Lunch, training sessions, a prize raffle, and product demonstrations provided.
Event Information
Mitsubishi Solutions in Motion Mobile Showroom
See first-hand what unifies all of the Mitsubishi Electric Automation disciplines into a one-of-a-kind solution.
Training Sessions
Engineer lead 15 minute training sessions on CC Link IE Field Basics, CC Link IE Field, Robotics, and GX Worx 3.
Product Demonstrations
Engineer lead product demonstrations on Laser Markers, Collaborative Robots, Safety/Guarding Equipment, Conveyors, Actuators, Traceability, and Poka Yoke.
Prize Raffle
A combination of registration, event attendance, and training session participation will enter you to win a $300 VISA gift card!
Lunch
A hot entree, sides, and beverages will be provided.
Race Car Displays
Martin Motorsports is bringing 2 race cars they have used to win multiple NHRA and IHRA Championship Titles.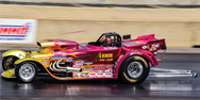 Event Registration
Please Complete the Form Below